Bride and Rose is Asia's first-ever wedding concept store. It's a bride-club and co-working space in Quezon City that showcases all wedding essentials in one roof!
From wedding gowns to fragrant bath bombs, you can find them here. And it's great news for every bride-to-be because you get to know lots of wedding suppliers in one go. Saves time, right?
Bride and Rose Contact Details
Address: 2/F Bride and Rose, Il Terrazzo Mall Tomas Morato Ave, Cor Sct. Madriñan St, Quezon City, 1103 Metro Manila
Contact Number: 0917 858 7474
Website: www.brideandrose.ph
Facebook Page: https://www.facebook.com/BrideAndRose/
But you might ask "What happens when I get there?"
Bride and Rose Experience
To fully help you out in planning your dream wedding, here's a 6-step guide for you when you visit Bride and Rose.
Let's start…
STEP 1: CHOOSE
To get started with wedding planning, you must first choose the type of membership. The choices here vary according to your needs and wants.
Please note that this is just a one-time payment, and can be done in the physical store or online.
STEP 2: REGISTER
After choosing the membership type, you will now register by filling up all the necessary details on their website: Check their website
STEP 3: SCHEDULE APPOINTMENT
Once you're done with the registration, it's time to book that special date.
Mark your calendar because it's time for your Bride and Rose experience!
STEP 4: RESEARCH
And now that you are finally here, you get to enjoy lots of resources for your wedding planning. They have lots of physical books you can read during your visit.
STEP 5: PLAN
When you finish your research, it's now time to plan your big day. With the help of a bride assistant, you can schedule a meeting with your chosen suppliers, or you can inquire about the packages available.
STEP 6: BIG DAY
On your big day, their team will still be there. Plus, you also get a chance to be featured on their website and partner publications.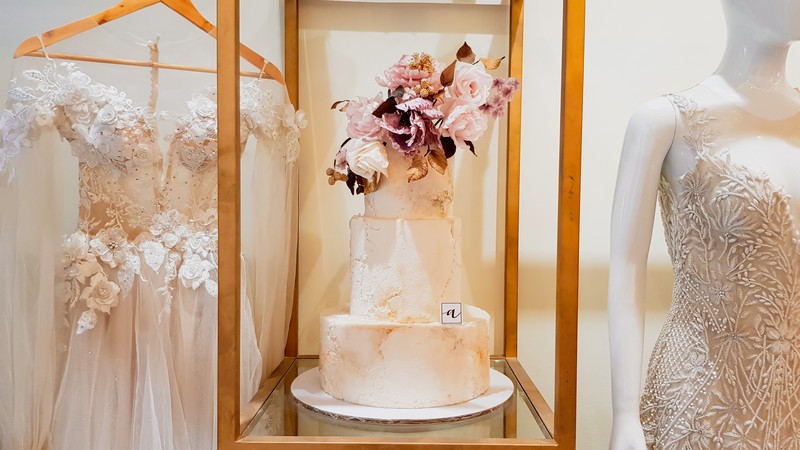 Bride and Rose Prestige Brand Partners
Note: These are the brands I personally saw during the store opening in December 2019. Kindly check their website and Facebook page for the updated list.
Wedding Planners and Journals
•Kate Spade New York
Bridal Gowns
•Patricia Santos Atelier
•Jazel Sy Bridal
•Audrey Hepburn
Accessories and Bags Designer
•Christopher E Munar
Bridal Robes
•Happy Andrada
Bridal Gown Rentals
•Shabby Chic Style Studio
Catering and Venues
•Enderun Events
•The Creamery Caterings
Event Stylists and Florists
•Flowers and Events by Teddy Manuel
•Randy Lazaro Events and Lifestyle
Cake
•Audrey's Pastry Boutique
•Gervy's Amazing Cakes
Souvenirs
•Eurielle Bath Bombs
•VV and Co Ph Perfumes by Vern and Verniece Enciso
Home
•Vintage Hub Furniture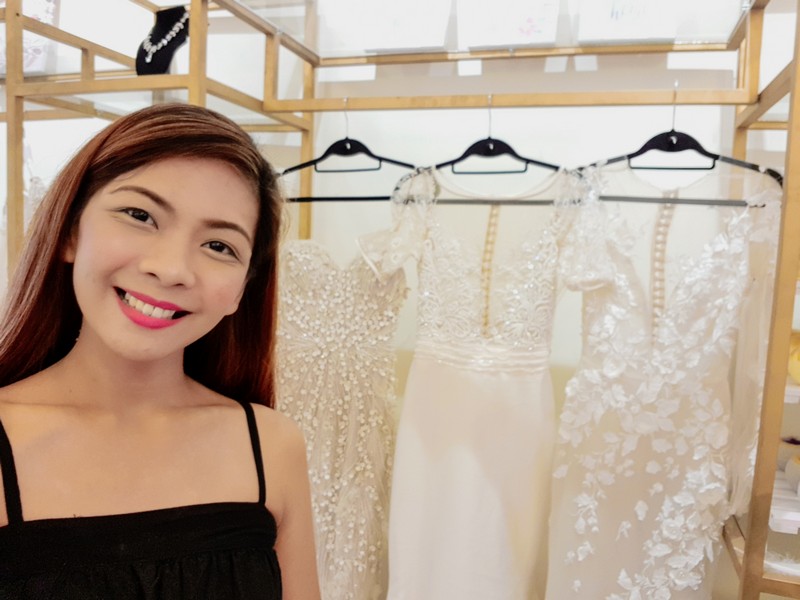 Overall, this wedding concept store looks promising. It's like a mini bridal fair that's open for the brides everyday! Plus, the chic interiors will instantly put you into a "bridechilla" mood.
Bride and Rose Contact Details
Address: 2/F Bride and Rose, Il Terrazzo Mall Tomas Morato Ave, Cor Sct. Madriñan St, Quezon City, 1103 Metro Manila
Contact Number: 0917 858 7474
Website: www.brideandrose.ph
Facebook Page: https://www.facebook.com/BrideAndRose/
Disclaimer: Thanks to Ms. Trishie and Ms. Leo for inviting me to be a part of the grand opening of Bride and Rose. This sponsored post reflects my personal opinions based on my personal experience during my visit. Happy Preps!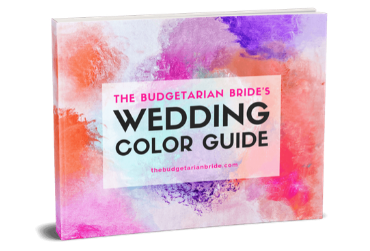 NOTE: You will receive your FREE Guide at the email address you will provide.
2020 Update: Bride and Rose- An ultimate Bride's Haven hosted a delightful reopening
An enchanting concept store for Brides and joyful wedding celebrations known as Bride and Rose has Reopened to showcase the best products and ideas. Bride and Rose is a wedding concept store that ensures every bride is safe and relaxed by doing all wedding agendas in one roof and saves all the hassle of getting from one place to another due to massive traffic issues in the Philippines.
Bride and Rose is Brides-To-Be heaven that offers all solutions under one roof. The co-working space is filled with physical samples of everything that makes it a One-Stop-Shop for your wedding day requirements.
Western countries were already following this idea, and for the first time, someone realized the need for such a wedding store in the Philippines. Bride and Rose have brought new business trends in the area of wedding planning and retail stores. They want the brides to enjoy the process of planning their big day that is supposed to be a source of happiness, not panic attacks.
Bride and Rose is a bridal boutique claiming that their brides get the broadest range of wedding dresses. These wedding gowns are available in a wide variety and are creations of both local and international designers.
Bride and Rose offers different membership plans that fit every bride's needs. They even offer their whole store exclusively to have an exclusive dress-up party, bridal shower or any intimate affair. Additional elements to adorn these precious memories are cocktail drinks, decors, music, provided with personal assistants. The brand also helps the clients hire a hair and makeup artist, photographer, and stylist to complete experience.
"It was a long and stressful journey to turn this idea into reality, but all the efforts were worth the support we have received from our team and partners. We offer everything that people need to pull out picture-perfect bridal showers, boudoir sessions, wedding ceremonies, reception, and honeymoon trips. After the soft launch, this Grand re-opening is our way of welcoming people to cherish happiness after the Pandemic blues." ~Trishie Dela Cruz, CEO of Bride and Rose
This dynamic store collaborates with several local and international suppliers to offer a wide range of prices and options for the brides. Their customers can get a perfect fitting from the choice of more than a hundred of sample dresses. RTW(Ready To Wear) and bespoke wedding gowns cost from 20,000.00php to 150,000.00php, and the Entourage collection begins at 2,500.00php. This unique concept shop is a sigh of relief for the brides that would be happy to indulge in elegant couture by renowned designers around the world, including:
• Papilio Bridal
• Nora Noviano Sposa
• Victoria Soprano Group
• Elly Haute Couture
• Katherine Joyce Paris
• Berta (Coming Soon)
• Patricia Santos of PS Officiel
• Disegno Dado
• Nicole Lim Ph
Along with more than a thousand adorable gown styles in catalogs, a bride can find cake samples from Audrey's Pastry Boutique.
Bride and Rose can organize fascinating destination wedding celebrations in Bali, Indonesia, and Europe. They offer graceful venues in Tuscany, Italy, such as Villa Gambarai, Chateau Challain, Villa Grabau, and La Corte Dei Papi that add serenity to these memories. They also have the following partner suppliers from the Philippines, USA, Japan, and Hong Kong:
• The couples can find a sophisticated Invitation template according to their taste from the vast array of choices. The Fine Press from Jakarta, Indonesia, The Whale Whispers from Hong Kong, and Sophia's Party Favors are distinctive partner brands.
• Souvenirs such as curated boxes, perfume with custom boxes, soothes and teas, and others are featured by Simply G, VVandCoPh, EAI Handicrafts, La Vie En Rose Sweets and Essentials HG Studio.
• Bridal Shoes from Bella Belle Shoes USA are coming into the store.
• Venue Styling is an expert curation from Randy Lazaro, Teddy Manuel, and Shabby and Chic Style Studio.
• World-Class Catering Services and Venues from the top culinary school- Enderun Events.
• They also have Kate Spade New York's Wedding Planner and Mrs to Mrs. Bridal Notebook to write down the wedding plans and schedules.
• The accessories section portrays the creative sophistication of Athena Bridals and jewelry by Christopher Munar. Another fine collection of rings and jewels from Brilyo Jewelry and Fiery Jewelry and Watches are the highlight.
• One can see some elegant robes by Jazel Sy and Intissimo and Entourage gowns from Shabby Chic Style Studio and Tess Creations.
• Bride's makeup, photography, and videography are also something couples can avail of from Bride and Rose's brand partners HG Studio and Nice Print Photography.
• A wedding is incomplete without a romantic travel plan. DLC Backpackers and Travel Expert set up by the honeymoon for Bride and Rose's clients. And Bridal Cars from Philippine Rent A Car
• Bride and Rose is an informative co-working space equipped with guide books and informative booklets such as "The Perfect Wedding Reception Details, Wedding Planning 101, Mother of The Bride, The Big Book of Wedding Planning," and more! Brides can purchase accessories such as masks, planner notebooks, calligraphy pens, bridal bags/clutches, Jewelry Boxes, lingeries, bridal shoes, and veils right away.
Bride and Rose had a soft launch last year in December, a masterpiece by La Belle Fete. However, due to the Pandemic adversity, the business had to face many difficulties throughout this year. The young multi-talented owner, Trishie dela Cruz, did not lose hope, and eventually, Bride and Rose are back with the best brands and wedding plans for their clients.
There was a grand reopening party on 22nd October 2020, a full-day event, including a photo and video shoot, ribbon cutting, and afternoon cocktail party. It was a lush and graceful gathering adorned by founder Trishie Dela Cruz, her husband Dom Alferez, and several sponsors, partners, celebrities, and friends.
A few highlights of the event are influencer guests, including Heather Vicencio, Melchielle Gerodias from Flying Indays, Shanika Silverio, Hanna Capinpin, Denise Heredia, and Charlene representing Hakunamachata.
There were some lovely giveaways, courtesy of Soon To Be Mrs. Bridal Notebook, Essentials by HG Studio, Athena Classics, Terrestrimin, and Flounce Masks.
It was an extravaganza of excitement, charisma, and elegance representing the artistry of The Tablespread Co., Mix Balloonery and Surprises, and Shabby Chic Style Studio. The elegant lights and soothing music were craftsmanship from Beats N Snap. RAF Events and Photobooth, Troika, Audrey's Pastries, and Nicole Lim Ph made precious memories for eyes and palates. The fancy event with flowers and bouquets from La Bella Rosa, Project Art Ph, Belle Fleurs Manila, Mary Mars Flowers and Gifts, and VGrace Ph felt dreamy. The gorgeous Steffi Blair of Pretty Looks, beautiful Haze Gonzales of HG Studio & dazzling Jose Sacramento of CCYG Korean restaurant was a significant part of the Bride and Rose reopening event.
After the re-opening event, many influencers and brides-to-be admired the Bride and Rose's 2-weeks campaign- a series of posts expressing their emotional brand struggles and success stories were done in their Social Media pages highlighting the official MTV shoot of the reopening day entitled "A Dress Up Affair" posted on Instagram Live with Creative Director Thian Rodriguez. Bride and Rose have much more to offer for Soon-To-Be-Brides and couples who want a one-of-a-kind and hassle-free wedding planning experience! For more information, visit www.brideandrose.com
Bride and Rose Experience (Everything You Need to Know!)