Church Wedding Planning Checklist
Fulfill your dream wedding and start the next chapter of your life, stress-free! Wedding Planning for the Clueless Bride-to-be is an ebook, an online wedding planning tool, which serves as a wedding planning checklist tailor-made for Filipina brides.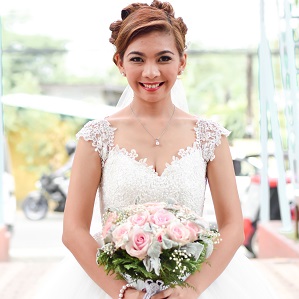 About The Budgetarian Bride
The Budgetarian Bride is a brand created by Camille Fornela of Budgetarian Bride Online Tutorial Services. If you are looking for wedding planning tips and ideas, wedding planning checklist, or wedding planning guide, this is perfect for you.
Camille started this brand as her way of helping brides-to-be avoid the wedding regrets she once had during her own wedding. With her personal experience, she realized that brides-to-be can actually plan their own church wedding within 6 months, without hiring a wedding planner. They just need to understand the wedding planning process and how to plan a wedding step by step. 
Choosing the right colors is one of the most important things for wedding planning. It sets the mood, guides your decisions, and helps you paint the picture of your big day. This printable wedding planning guide will show you popular shades of red, blue, pink, and other colors. Plus, it also includes best color wedding color combinations you can easily take inspiration from!
All you have to do is subscribe to The Budgetarian Bride's email newsletter to get your FREE guide. Also, I'll share with you how we pulled off our 6-month Church Wedding Planning with Php 300,000 budget breakdown for 200 guests!
Wedding Planning for the Clueless Bride-to-be eBook
Is wedding planning stressful?
How to plan a wedding in Philippines?
How to plan a wedding by yourself?
What to do first when planning a wedding?
When to start planning a wedding?
If you are asking these things, then this online wedding planning tool can fully help you with the wedding planning process. You will get a complete wedding planning checklist (these are all printable wedding planning checklist), wedding planning calendar, and wedding planning excel spreadsheet, along with the Wedding Planning for the Clueless Bride to be eBook (also known as The Budgetarian Bride eBook).
I got married last Dec. 14, 2019 and I thanked you so much for helping me out thru your ebook and checklists.
Walang perfect wedding, perfect moment lang talaga with my hubby. Madami mang kulang or nakaligtaan or nag iba sa plano, super ganda pa rin ng resulta at syempre ako lang yung nakakaalam ng mga maling yun pero inenjoy ko na lang with hubby and guests ang wedding day.
Feeling ko parang expert na din ako sa pagcocoordinate or pagplano ng mga kasal. Hahaha. Once again, thank you so much!
Highly recommended! Your eBook serves as our guide for our whole wedding preps. Super useful din ng lahat ng tools like budget tracker and planner. In 5 months of wedding preps, we were able to achieve our dream wedding the budgetarian way. Thank you sa lahat ng tips and especially sa timeline (naprepare namin lahat even yung mga DIYs namin). Thank you so much sis Cams. God bless you.
My name is Reina. I purchased your eBook and I am also one of the 'silent' followers of your page, The Budgetarian Bride.
The reason why I emailed you is that I want to extend my gratitude because your FB page and eBook have been my guidance during my wedding planning.
I remember earlier this year after purchasing your eBook, sobrang saya ko dahil ang dami kong tips na nakuha. Yung step-by-step ng wedding planning natutunan kong lahat yun dahil sayo.
By the way, we tied the knot last August 10, 2020 (our supposed wedding date was August 15, 2020).
Some of our loved ones were not able to celebrate the special event with us. We had a limited number of guests. But we are happy because, finally, we are now married.
Yes, this pandemic has changed a lot of things but during these trying times my now-husband and I have also proven one thing, and that is, no amount of pandemic can ever stop us from marrying the one that we truly love.
Thank you for all your help, Ma'am Camille. You really are an inspiration. May God bless your generosity.
The Budgetarian Bride book by Camille Fornela covers a whole lot of topics for newly engaged couples who are looking into tying the knot and how it's done. As an engaged couple, we learned a lot of things and processes that we ought to know before getting into action. Most of the questions we asked ourselves have been answered by this book. From entourage preparation to suppliers preparation, the details have been precise and it's great. We are both looking forward to a future together and this totally helped us with the timelines we need, budget to allocate and take note of what's important and what's not.
I got excited to read the book so natapos ko na sya basahin today. I feel less stressed after reading this book because now we have a guide and a sense of direction for the wedding preparations. This book is very informative and helpful for soon to be brides who have no Idea where to start, how to plan and budget for their wedding. It is very comprehensive and provides a detailed guide on all important matters to be considered and needed in your wedding preparation. It includes great tips and advice as well to make sure that all items needed for the wedding will be taken care of.