To save up on some expenses, couples try to DIY things like invitations and one of their major concerns is the wedding invitation format.
How to tell them that they need to RSVP?
What should I write first on the invitation? Our names or the wedding date?
Can I politely say that we prefer a monetary gift for the wedding?
These are some of the most asked questions when the couples decided to make their own invitation. So to help brides-to-be and grooms-to-be create their own invitation, here are some wordings you can use:
Couple's Name
Traditionally, the woman's name comes first when it comes to wedding invitations. The couple can use their full names, first names, or just their surnames. This is the most common format here in the Philippines, just the bride and groom's name for the header.
But if your parents would pay for the wedding, you can start by honoring your families and use any of these lines:
Together with our families, we (Bride's name) and (Groom's name) request the pleasure of your company at the celebration of our union
(Bride's name) and (Groom's name) together with our parents (Parents' name by pair) request the honor of your presence to celebrate our union as husband and wife.
(Bride's name) and (Groom's name) with the grace of God and with the blessing of our parents (Parents' name by pair) request the honor of your presence for a celebration of love, family and friendship as we become united in marriage.
With the blessing of their parents (Bride's name) and (Groom's name) request the honor of your presence to witness and share their joy as they join hands in marriage.
(Bride's name) and (Groom's name) together with their parents cordially invite you to share their celebration and sealing of promise of love and commitment to each other.
In case you want to include the name of deceased parent/s, you just need to adjust a little on the wordings.
Try this wedding invitation format:
(Bride's name), daughter of (mother and father's name) and (Groom's name), son of (mother and father's name) request the honor of your presence to celebrate our union as husband and wife.
Wedding Details
After the heading of your invitation, you will now add the details of your wedding to make sure your guests are well-informed.
Here are the things you need to indicate, no need to add fancy words:
Day of Wedding (Monday, Tuesday, etc.)
Date of Wedding
Time of Wedding
Name of the Church (Location of the church is optional)
Name of the Reception Venue (Location of the reception venue is optional)
Time of Reception
Name of the invited person, add a number if they are allowed to bring companions. (e.g. We reserved 2 seats for you.)
If you want to make your invitation informative, you can add a small map going to the church and the reception venue. You can also add landmarks to help them locate it easier.
Entourage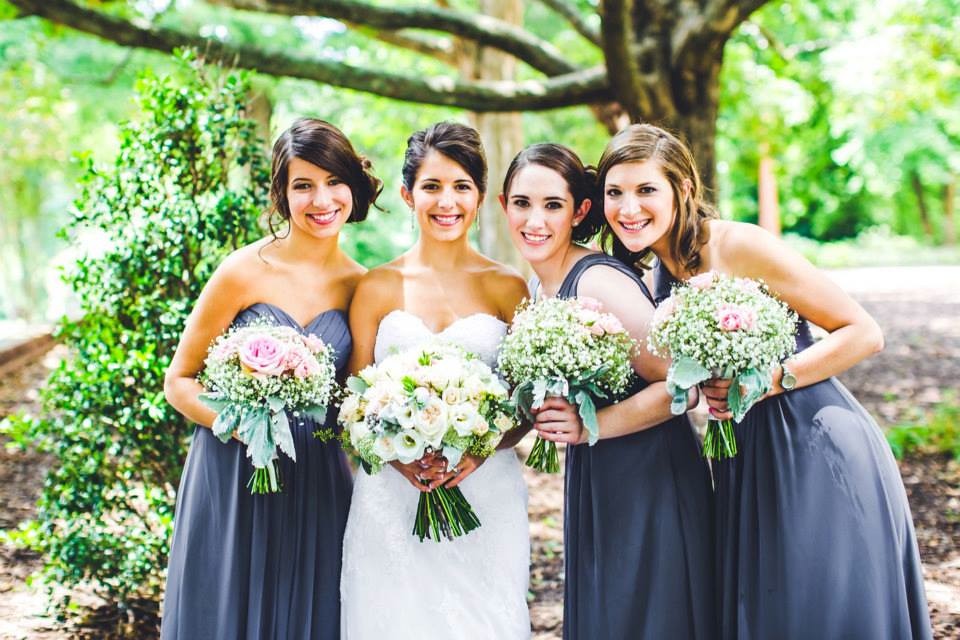 For Filipino Wedding Invitation format, we usually add a separate page to indicate all the names included in our entourage.
Now, here is the wedding entourage list for your reference:
Bride
Groom
Parents of the Bride
Parents of the Groom
Principal Sponsors
Maid/Matron of Honor
Bestman
Candle Sponsors (To light our path)
Veil Sponsors (To clothe us as one)
Cord Sponsors (To bind us as one)
Bridesmaids
Groomsmen
Ring Bearer
Bible Bearer
Coin Bearer
Flower Girls
Dress Code
If you are very specific with how you want your wedding guests to dress up, you can always include this in your invitation. Check out these sample wordings you can use for your wedding invitation format:
Any style of your choice. Please check the attached color palette or swatch as a guide in selecting your attire.
Event is strictly formal.
Please use the details below as a reference for your attire:
Ladies – Cocktail Dress or Long Gown with a hint of blue
Gentlemen – Suit and Tie
Suit and tie for men. Formal dresses for women.
This one is indicated to ask your guests to confirm their attendance.
You can ask them to confirm using these wordings:
We reserved _ seat/s for you. The favor of your reply is requested. Kindly confirm by (Date of confirmation) by sending us a message at (mobile number).
We have reserved _ seat/s for you. Thank you for understanding that this is an adult affair. The favor of your reply is requested on or before (date of confirmation). Send us a message at (mobile number).
Preferred Gifts
As more and more couple prefers monetary gifts compared to material gifts, we also came up with fancy words to remind your wedding guests of this preference.
You can use these wordings for your wedding invitation format:
As love is what this night is all about. Your presence is one we can't celebrate without. But should you still believe that a gift is worth giving, a small envelope for our future is a delightful blessing.
Your presence at our wedding would bring us genuine happiness. And if you're considering help for us, monetary gifts would be very much appreciated.
With all that we have, we've been truly blessed. Your presence and your prayers are all that we request. But if you desire to give, nonetheless, a monetary gift is one we request.
We're tying the knot and we just can't wait. We knew it would happen on our very first date. As we've got our home dressed up with accessories, we don't really think that a wedding gift list is necessary. But if you did want to give something to help us on our way, some money in a card would truly make our day!
We haven't included a gift list in our invite, As we have everything – it just wasn't right… To ask for more things for the life we lead, when a reliable new car is just what we need. If you were thinking of a gift for us to start our married life, some money would make us very happy husband and wife.
Your presence is the only present desired. No gifts required.
Request for Unplugged Wedding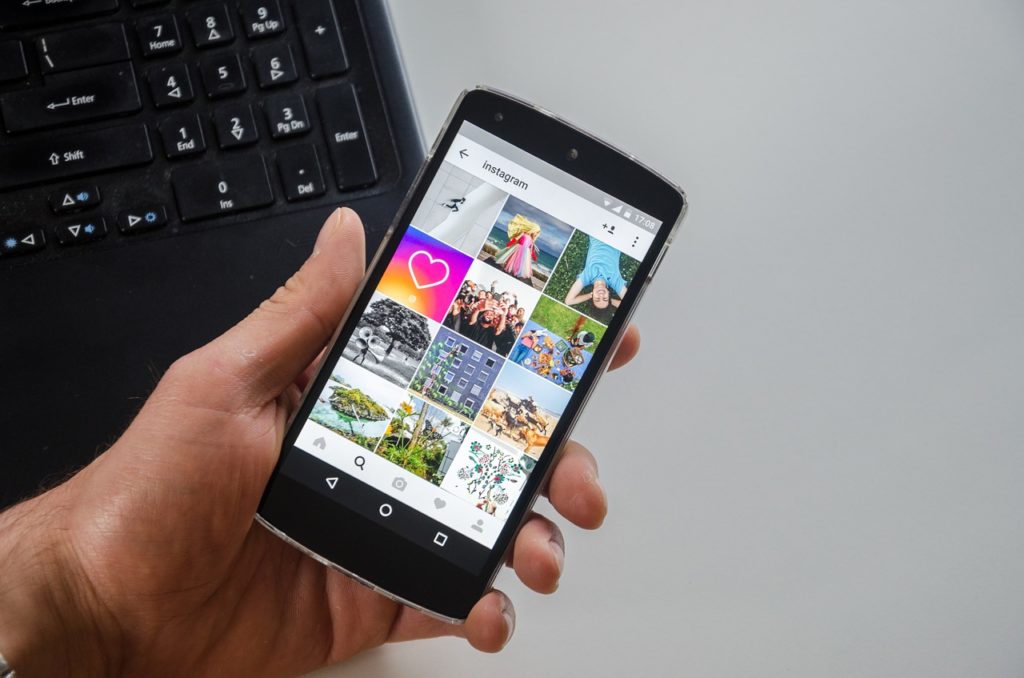 When you hired an expensive photographer to cover your big day, the last thing you would want to see would be guests busy taking pictures with their smartphones.
So if you wish to let them know, try these wedding invitation wordings:
The bride and groom kindly request an unplugged ceremony. Please turn off all devices and enjoy being fully present at this moment with us.
The greatest gift you can give us today is to be truly present, so please turn off all phones and cameras and enjoy this special moment with us.
Thank you for coming. We have but one plea, please keep our ceremony camera-free.
We invite you to be fully present with us at the ceremony and ask that you refrain from taking photos.
I hope these tips help you as a budgetarian bride. If you want to DIY your wedding planning, check out Wedding Planning for the Clueless Bride-to-be! This eBook helps Filipina brides-to-be plan a stress-free and budget-friendly wedding within 6 months.
NOTE: You will receive your FREE Guide on the email you will provide.
Invitation Wordings for Postponed Wedding (due to Pandemic)
After careful considerations, we would like to announce that we are postponing the original date of our wedding. We will announce the official date soon. We know that this pandemic is being felt, not just in the Philippines, but around the world. It's important for us all to take the necessary steps to keep ourselves and our loved ones safe. Looking forward to celebrating with you, soon.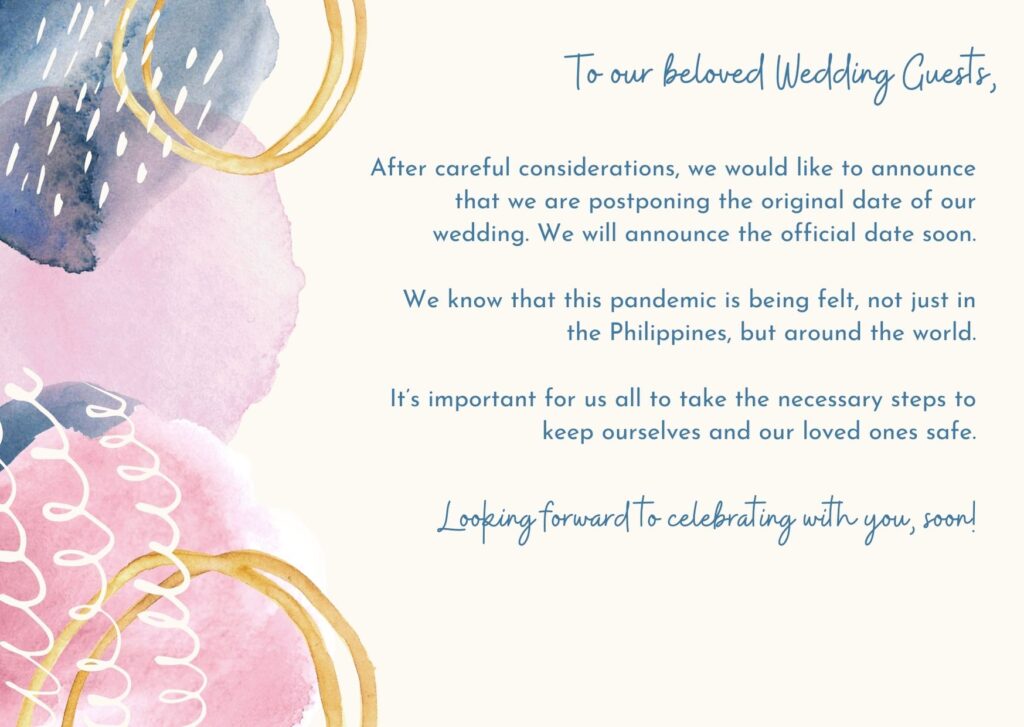 Cutting Down of Guest List Announcement
We regret to inform you that due to unforeseen circumstances, our wedding plans had some changes. We had to cut down our guest list and decided to just celebrate with our immediate families in order to comply with the government's current wedding guidelines. Our apologies for any inconvenience and hope for your kind understanding. It's important for us all to take the necessary steps to keep ourselves and our loved ones safe Please stay healthy and see you soon.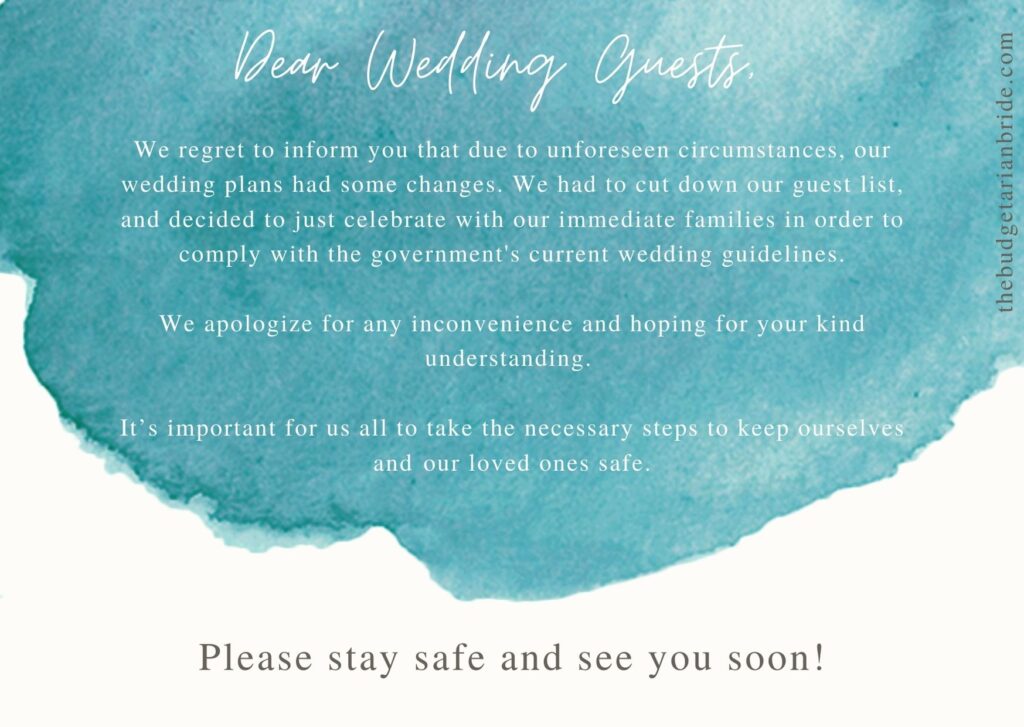 Top 7 FREE Website or Apps for your DIY Invitation
Adobe Spark
Greetings Island
eVite
Designbold
Fotor
Stencil
I hope you find this DIY Invitation guide helpful.
Happy Preps! <3
Wedding Invitation Format for Your DIY Invitation