In a perfect world, you will only meet perfect wedding suppliers during your wedding planning. Those who deliver as agreed, know what you really want, and ask only for a reasonable price.
But we're not in a perfect world.
To help you become a smarter bride-to-be, let me share this important list with you:
6 Types of Wedding Suppliers You Will Encounter
Please remember that they're not all bad, but they're not all good, too.
#1 The Professional and Sought-After Wedding Suppliers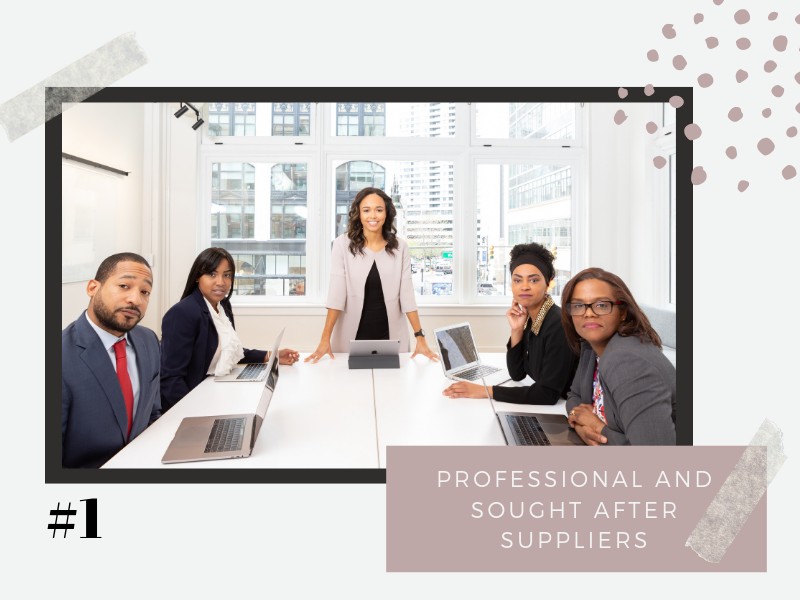 Overall, they're really good, quite expensive, and usually fully-booked.
In terms of quality, their years of experience in the wedding industry speak for themselves. They tend to be the top of mind choice when you mention their field, they are highly popular. Or you even saw them cover high-profile weddings every once in a while.
And with popularity, they tend to become very expensive and almost always fully booked.
#2 Newbies
They are usually affordable, easy to book, and still very passionate.
When I say affordable, it means they are still in their introductory phase and they might offer you freebies to sign you up as their client. Also, they are easy to book because they are not as popular as the first one.
And for the passionate part, I noticed that newbies give their all just to deliver the best output. You have their attention 100% because they don't have many clients yet.
However, this kind f supplier might only offer a basic package since they're still new. It's still up to you if you think they're trustworthy or not.
#3 Fly By Night
Too good to be true. In short, SCAM!
If wedding suppliers give you an "all-in package" for a very very low price, you have to ask them of the inclusions or find out if there are possible hidden charges along the way.
Others will offer you too many freebies on top of the all-in package with just one condition…
You just need to pay the downpayment now.
Does it ring any bell?
Unfortunately, these suppliers will cause you so much stress than savings. It's either they will block you or give you unacceptable output after you paid them.
#4 Busy Wedding Suppliers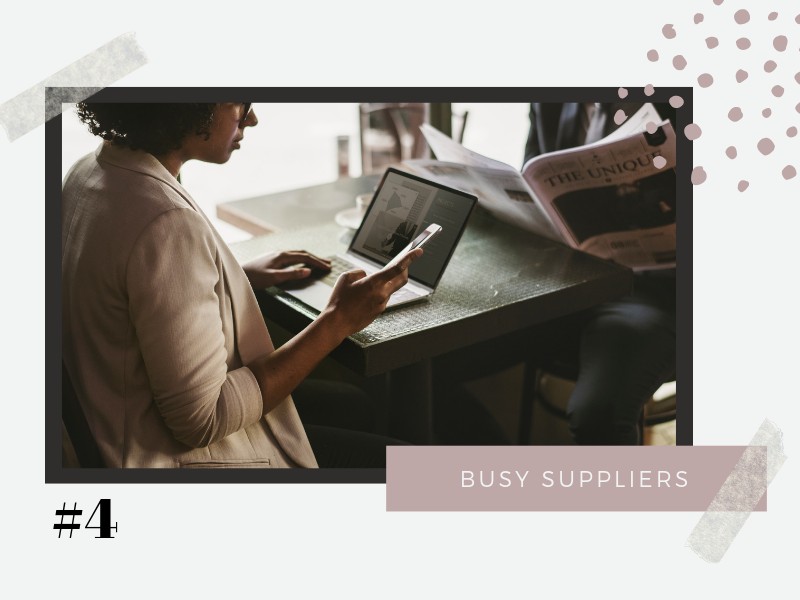 The Busy Wedding Suppliers might not be as popular as the first one, but they have lots of clients in their schedule.
With so many bridal fairs they have participated, their calendars are full. And they tend to prioritize you only when your wedding date is near.
When they know that your wedding will happen next year, you might not receive a swift response. Because they might have an ongoing event.
#5 Double Bookers
One of the most heart-breaking things for lots of brides-to-be is to find out that their wedding supplier has a double booking.
Double booking means the supplier had 2 or more events in a single day.
And most brides-to-be wanted to feel special, to have their team present from start to end. So, double bookers are frowned upon.
Nobody wants to pay the full price only to be handled by an assistant or to see the supplier not being 100% attentive.
So, make sure you ask this for your wedding suppliers. And let them add this to their contract, if possible.
#6 FREE!
Risky but you'll save a lot.
When a friend or a relative volunteered to function as a photographer, OTD Coordinator, HMUA, or Florist, you'll save lots of money.
But it's also very risky for your wedding day.
Okay, I am not against free suppliers, I actually had a free DIY prenup shoot covered by my brother.
And I wanted to warn you that volunteer friends are very risky. First, they have nothing to lose if they didn't show up or if they arrived late on your big day.
You did not pay for them, so it's very hard to demand.
Remember that you're only getting married once, might as well as book a trusted supplier. If you're not sure about a friend who volunteered.
These are all the 6 types of suppliers you can encounter. Let me know your experiences in the comment section below!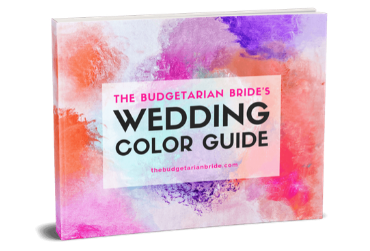 NOTE: You will receive your FREE Guide at the email address you will provide.
Wedding Suppliers – 6 Types You Will Meet During Wedding Planning