Dear Bride-to-be,
The moment you said "Yes" to the proposal, everybody thought that you already figured out all the details of your wedding. And there will be people who will ask you…
"So, when is the wedding?"
"Are you pregnant?"
"Can I bring my boyfriend, my mom, or my friend at your wedding?"
And you would feel overwhelmed with all these kinds of questions people throw at you. As if you owe them all the wedding details. Worse, some feel entitled to give their unsolicited opinions and advice for your wedding.
But none of them ever asked about you.
Usually, those who voice out unsolicited opinions will not even give you the financial assistance to make their suggestions happen. And if you fail to follow them, you might hear rude remarks.
So, I want to comfort you with all the stress you're going through right now. I've been there, and I want you to know that everything will be okay…
You Can't Please Everybody
Always remember that it's your wedding. And the only people you need to please is you and your Groom-to-be.
No one can impose their demands on you, not on your wedding day. Just remember that these people will have their own wedding, too.
And whatever they want, they can make those things happen at their own wedding. Not on yours.
You're Not Demanding
There are lots of things that only a fellow bride-to-be can understand.
Unless they experience wedding planning first hand, they will never know how stressful making a guest list is, trying to fit everything within your budget, while dealing with all the emotions involved in wedding planning.
People think that asking for RSVP, Unplugged wedding, and Adult-Only event seemed rude.
Some people even call it offending, and others might threaten you that they will no longer come on your big day because of these rules.
Again, they will never understand.
Bride-to-be, It's Okay to Say "No"
Don't be afraid to say no when it comes guest list, budget, and suppliers.
When people self invites, politely turn them down. If the suppliers offer you an upgraded package with an added cost, it's okay to say no.
And I know that it's a Filipino trait that we do not want to offend anyone, that's why we become a yes person.
But sometimes, you have to remember that saying yes comes with additional cost and stress.
Groom-to-be is your Partner, Not an Enemy
During wedding planning, every bride-to-be experienced having some arguments with groom-to-be.
Despite having a strong foundation for the relationship or being good communicators, there will be tiny, little details that can start a fight.
And as a bride-to-be, I want you to know that it's normal.
But you have to remember that at the end of the day, he's your partner and not an enemy. It would be better to work together to solve a problem than to blame him.
If you think groom-to-be isn't very helpful with wedding planning, let him know how he can help you.
Your Wedding, Your Rules
If you've read some of my blog posts, you'll notice that I keep repeating this line "Your Wedding, Your Rules."
Because I want to remind every bride-to-be not to be swayed by a friend's or relative's opinions, by social media, or by a wedding supplier.
Since us Filipinas can only get married once, I want to remind you to make this wedding something that is personal to you.
Know the things that will truly make you happy, and just go for it. Forget about what other people will say because they will judge you anyway.
And since society already put so much pressure on you, don't make things harder for yourself. Always remember that a wedding should be a celebration of love, exchanging vows with the person you love the most in front of God.
I only hope that you achieve a stress-free dream wedding!
Happy Preps,
Camille Fornela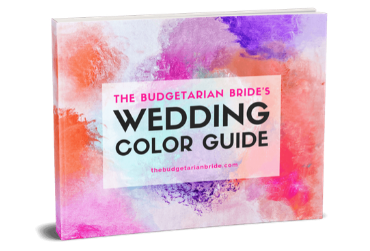 NOTE: You will receive your FREE Guide at the email address you will provide.
An Open Letter for a Bride-to-be (from someone who understands you!)