Here in the Philippines, if your wedding date falls between June to October, you will need these 11 rain on wedding day tips. June to August usually has regular rains, while September and October are typhoon months.
But don't worry if you already planned your wedding later this year. Here are the things you need to do to overcome any wedding-related stress. And to cheer you up, did you know that tradition says rain symbolizes prosperity and fertility?
So, just stay positive and check these tips!
Rain on Wedding Day Tips
#1 Wear Waterproof Makeup
I guess even if your wedding day falls on Summer, you would still need waterproof makeup to keep it intact even if you cry.
How much more if you expect rain on your wedding day?
So, don't let rainy season ruin your glow and radiance, you can fight it by using waterproof makeup!
#2 Rent a Tent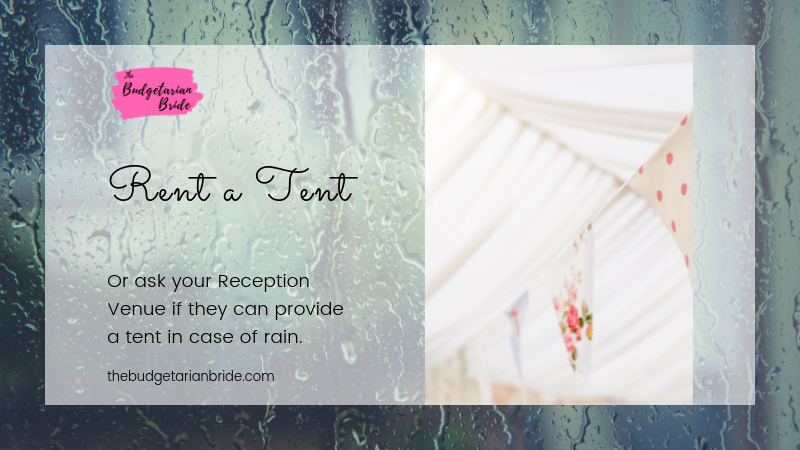 If you are planning to have a garden or beach wedding, you should rent a tent if you are expecting rain showers on your big day.
Or you can also ask your reception venue if they can provide a tent in case of rain. Ask for the price and compare it with outside tent suppliers.
Having a tent ready can help you save the expensive styling and every little detail of your wedding.
#3 Check the Weather Forecast
Just to make sure, you can check the weather forecast for your wedding day. If you have an out-of-town wedding, you need to check the weather forecast for your venue, and the place where most of your guests will come from.
For example, you will have a Tagaytay wedding. But most of your wedding guests will come from Metro Manila and Bulacan.
By checking all these weather forecasts, you can…
#4 Inform Your Guests
Your wedding guests will definitely appreciate this kind of information. It will help them decide better for their outfit, shoes, and might even consider getting an accommodation.
Though some of your guests might find it inconvenient to attend a rainy wedding, those who truly value you will be there no matter what.
On the other hand, if there will be guests who will be canceling their attendance, you can save up from your reception expenses.
#5 Create a Flexible Wedding Timeline
In connection with the weather forecast and the wedding guests, you might consider having a flexible wedding timeline.
When the weather forecast says that there will thunderstorm or heavy rain on wedding day, expect that some guests might be late. Consider their safety, but at the same time, you don't let the rain ruin your program.
Because you don't want to start the wedding ceremony without the majority of your family and friends.
So, you must create a timeline that can accommodate some adjustments. Also, this will bring you peace of mind during the big day.
#6 Consider an Indoor Wedding
If you think renting a tent would cost you more, and you worry that it might not save you from a typhoon, an indoor wedding would be the safest option.
For your peace of mind, the indoor setting can keep the styling and the flowers beautiful all throughout the big day. Plus, you won't be risking your wedding gown being covered with mud.
#7 Give Out Umbrellas
If the weather forecast and the news on tv insist that there will be rain on wedding day, why not give out umbrellas as your wedding favor?
This will give you really cool photos seeing your wedding guests in uniform umbrellas. And they will also remember your big day even more because your souvenir was very helpful that day.
#8 Expect for Rain
Even if the weather forecast tells you that it's going to be a sunny day, it's better to have a rain-proof plan.
Again, if your wedding day falls any day from June to October, you have to be ready. Don't let rain showers take you by surprise.
This is a reminder to have a stress-free wedding day.
#9 Check with your Suppliers
Before you sign the contracts and pay a downpayment, be sure to ask about weather conditions.
Will there be an added fee in case of rain or typhoon?
What will be our setup in case of heavy rain?
Have you ever experience rain on wedding day? How did you handle it?
These are some things you need to ask before any payments were made. And you need to read all the fine print of your contracts. Because there are some suppliers who become unresponsive after the initial payment.
#10 Enjoy the Weather
The weather might not be ideal for a wedding, but this is the best one for your wedding night.
So, instead of stressing over the rain, which we can't stop, why not look forward to the cuddle weather later with your husband?
Just enjoy!
#11 Don't Panic
Now, if you followed all the first 10 tips I gave you, there's no reason you should panic. Even if there's heavy rain on wedding day, it's okay.
Just take a deep breath, and always remember that you are the most beautiful person out there!
How to Stop Rain on Wedding Day?
Here in the Philippines, there's a wedding-related belief about offering eggs to Sta Clara.
Most religious people believe that if you offer a dozen of eggs, usually wrapped in colorful cellophane to Monasterio de Sta Clara in Katipunan, Quezon City, you will have fair weather come your wedding day.
Personally, I heard this story from our wedding host during one of our meetings. But we did not perform this. And yet, we still had a nice weather. By the way, we got married in May.
Now, if you find this article helpful, feel free to share it with your soon-to-wed friends. And if you need a detailed and comprehensive guide on wedding planning here in the Philippines, you can check our eBook: Wedding Planning for the Clueless bride-to-be.
Let me know in the comment section on how you will handle the rain on wedding day!
NOTE: You will receive your FREE Guide at the email address you will provide.
11 Rain on Wedding Day Tips to Make You Stress-Free!