Inform and educate your guests with this basic wedding etiquette. From RSVP until the Reception do's and don't's are covered here:
If in case you are unsure about how to explain the wedding etiquette without offending your wedding guests, let me help you.
Wedding Etiquette to Remember:
#1 RSVP
RSVP stands for répondez s'il vous plaît, which means "to confirm".
When the wedding guests received the invitation, they should reply with their confirmation. Will they come or not? Usually, the invitations come with the RSVP date and a phone number to where they should send their confirmation.
When sending confirmation, the earlier the better. It is rude to cancel a day before or on the day of the wedding since the couple already paid for your slot on the reception.
#2 Do not Self-Invite
One of the most dreadful experiences of couples is when they receive self-invites from strangers. Self-invite means you sent a confirmation to a wedding even if you haven't received an invitation.
For some, it might just be a friendly joke, but it's actually offending. Especially if the couple has a tight budget.
As a wedding etiquette, if you did not receive an invitation, it simply means you are not invited.
#3 Do Not Bring a Plus One
If the couple invited you to their wedding, you need to check the number of reserved seats indicated on the invitation.
If you see that they reserved one seat for you, it means you cannot bring another person or a date at their wedding. But if it indicates 2 or more, it means you can bring someone with you.
It is rude to bring in extra guests without the couple's consent.
First, it will be an additional expense for them. Second, it will ruin the seating plan, if they prepared any. And third, it's their wedding, not yours. You cannot decide who they want to see or not.
#4 Come on Time
Not only a wedding etiquette, but it also applies to anything we do in life.
By coming on time, it means we show value to others' time as well. Be it a meeting, a birthday, work, or any other event.
#5 Attend the Ceremony, not just the Reception
When the couple invited you on their wedding day, you are not just invited to the reception. They want you to be part of the ceremony in the church, chapel, or garden as well.
They want you to witness their union and their first kiss as husband and wife!
#6 Do not Eat and Run
As a former bride-to-be, this one is my favorite wedding etiquette. Wedding guests should stay until the end of the program. Not just until they finish their meal.
Once you receive a wedding invitation, you can see how long the program will be. Or if they only indicated the start of their reception, then just add 3-4 hours for the entire program.
When you confirmed your attendance you are committing to be present until the end.
#7 Do not Use Your Phone During the Ceremony
Using phones while the ceremony is ongoing is rude. The wedding should be solemn and sacred.
Taking photos can be done during preparation or after the ceremony. Plus, be mindful not to obstruct the professional photographers they hired.
#8 Follow the Dress Code
If the couple indicated a dress code, kindly follow them. They will only get married once, let's give them their chance for a dream wedding.
When you plan your own wedding, you will appreciate it, trust me!
#9 Cash Gifts are Preferred
Gifts are not required when you attend a wedding. But if ever you decide to bring one, let me give you a hint.
Newlyweds would really appreciate CASH GIFTS!
They can carry it easily, no need to transport, plus they will not worry about duplicate gifts. Duplicate cash will never be a problem!
#10 Do Not Propose or Announce Pregnancy
Don't steal their thunder by announcing important life events during their wedding.
Let the couple enjoy the spotlight, they worked so hard to plan it. It would be rude to steal their big day by announcing your good news.
I hope this helps and happy preps!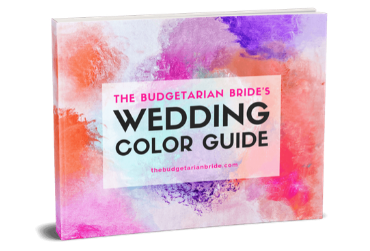 NOTE: You will receive your FREE Guide at the email address you will provide.
Wedding Etiquette for Filipino Wedding Guests (Must Read!)